Windows 10 is nice and all, but if you don't want to upgrade your Windows 7 or Windows 8.1 PC, Microsoft doesn't really want to leave you alone.  They're getting increasingly insistent with their little blue popup boxes and their "Do you want to upgrade now, or later?" prompt – there's no "bugger off and leave me alone" button.
If you'd like to stop your PC nagging you about upgrading to Windows 10, getting rid of these warnings that "Microsoft recommends that you install Windows 10 before your head pops off" at the same time…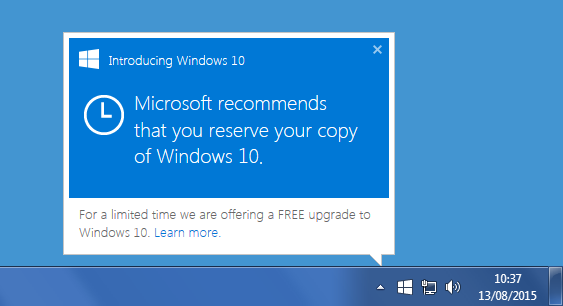 Just download and open this ZIP file.
It contains a small batch file called Stop Windows 10 upgrade, which you just need to double click on.
What happens when the batch file runs?
You'll see this black screen, followed immediately by an "elevation" prompt (which might, or might not, ask for an Admin password – but you'll need to click 'Yes' to approve the change):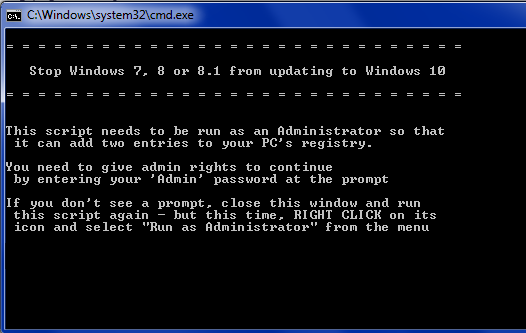 You really really ought to be prompted for a password in the "Do you want to allow the following program to make changes to this computer?" prompt: if you don't, you're using your PC as an Administrator, and that's not really a very good idea (unless you know what that means, and understand why you're doing that).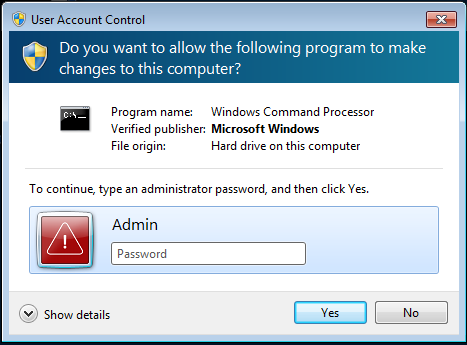 Once you're through the "allow the following program to make changes" popup, you should just see the screen below:
If you don't see the two "The operation completed successfully" entries, get in touch because something didn't work as it should.
Assuming that you do see the two "The operation completed successfully" entries, you can just reboot your PC and wave goodbye to the Windows 10 nagging screens.  (Until you reboot your PC, you'll still see them, even after running this batch file).
What does the batch file do?
The batch file makes just two small additions to your PC's registry.  The first goes to HKEY_LOCAL_MACHINE\Software\Policies\Microsoft\Windows\Gwx and sets a DWORD entry with the name DisableGwx and the value 00000001, while the second goes to HKEY_LOCAL_MACHINE\SOFTWARE\Policies\Microsoft\Windows\WindowsUpdate and sets an entry with the name DisableOSUpgrade, also with the value 00000001.
The first turns off the blue popups that pester you, and the second stops Windows 10 being installed when it's released as an "Important" update through Windows Update.  I know that the first works, and believe that the second will, but until Microsoft start actually doing it, we can't be sure.
Should I trust it?
No!  For two reasons: firstly, Microsoft may move the goalposts and change something else with a Windows Update so that Windows 10 sneaks onto your PC anyway.  Secondly, you should never trust anything you download from the internet!
Where's the file that I need to download?!
If you scrolled to the bottom of the page without reading the notes, you'll have missed it!  It's just under the first screenshot, near the top of the page.  Pay attention next time!